MCA Virtual Meeting - January 23, 2021
We will hold our January MCA club meeting on Zoom. Heidi Wastweet will give a talk titled "Old Well, New Water; Drawing Modern Inspirations from Classic Medals".
ANA NAAEMS Award Nominations
The ANA is looking for nominees for their NAAEMS Award (Numismatic Art Award for Excellence in Medallic Sculpture). You can download the
nomination form
as well as a list of
past winners
.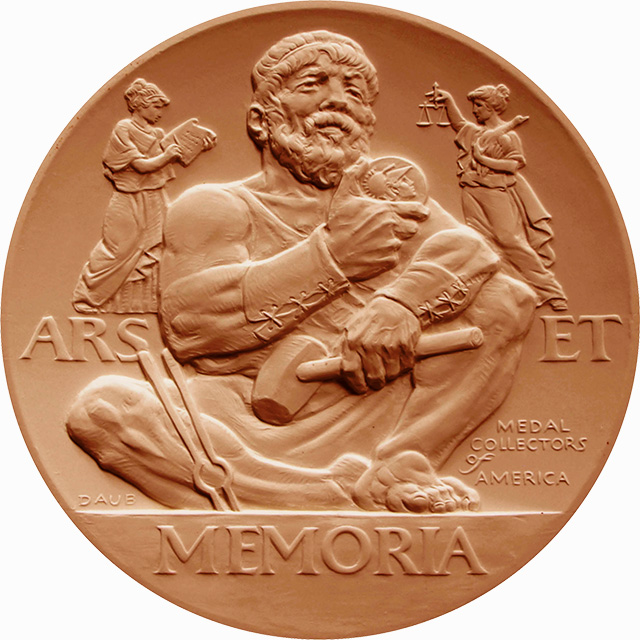 Medal Collectors of America was founded in 1998 as a club dedicated to the study and collection of artistic and historical medals. Our goal is to encourage research and publication in the medal field, while bringing together all who are interested, through meetings, publications, and other activities. Our magazine,
The MCA Advisory
, is published quarterly in both print and electronic versions, and we encourage submissions from both newcomers and experienced researchers. We hold two meetings a year, which are open to all, featuring guest speakers on a wide range of topics relating to medal collecting. One is held in August in conjunction with the American Numismatic Association convention, and the second in January in conjunction with the New York International Numismatic convention. One of the greatest benefits to membership is the opportunity to acquire our annual medal, which is struck in very limited quantities and available only to members.
The MCA Advisory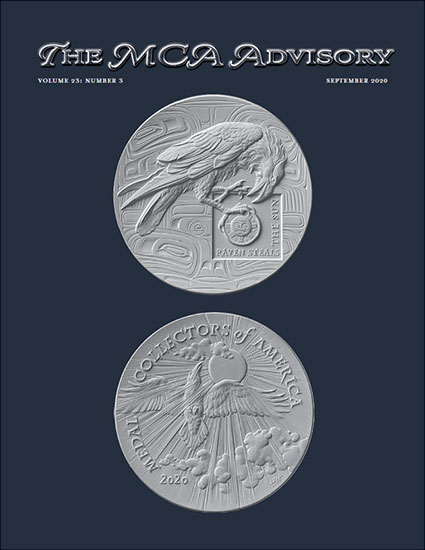 Volume 23, No. 3 (September 2020)
The Duke of Albermarle Medal: Celebrating the Recovery of the Concepción
The Perfect Poise
A Message in the Hand: The Artistry of Sue Aperghis
Harvard's Golden Age of Club Medals from A to Z
Augustin Dupre's Original Plaster Model for the Libertas Americana Medal
Paris Panthéon - A Brief History and Medallic Legacy
1776 Continental Army: Frangimur Si Collidimur Medal
Collecting Betts Medals Continued
Join Now
Become an MCA member and receive the following benefits:
Quarterly issues of The MCA Advisory (print or electronic)
Online access to all previous issues of The MCA Advisory
The opportunity to purchase the annual MCA club medals
Support the MCA mission