Latest News
News items from the past six months.
New MCA Website Launched (Posted June 2018)
A new website for the Medal Collectors of America has been launched. A brand new design has been created, incorporating new material with the previous website information, which allows new content to be added with ease. Additionally, a "My Account" feature has been introduced, where members can log in to access all back issues of The MCA Advisory. Accounts have been established for all members, and they can gain access by following the instructions on the login page to create a password.
MCA-MHS Conference on Medals (Posted April 2018)
Art and Memory: The Role of Medals
Conference organized by the Medal Collectors of America (MCA) and the Massachusetts Historical Society (MHS)
Saturday, November 10, 2018, 8:00AM - 6:30PM, at the MHS, 1154 Boylston Street, Boston, MA
Dinner afterward (at Brasserie JO), 7:00PM – 9:00PM
This conference on medals and medal collecting will include a series of presentations on the role medals have played in American history, the evolution of medallic art, and the ways medals have reflected American culture up to the 21st century. In addition, a panel discussion will cover the stylistic developments from Renaissance medallic art to contemporary art medals ("The Art of the Medal"). A second panel will explore the individual passions that drive numismatists to build their unique collections ("Why Collect Medals?").
Presenters will include:
Len Augsburger, Coordinator, Newman Numismatic Portal, Washington University in St. Louis
Anne Bentley, Curator of Art & Artifacts, Massachusetts Historical Society
Jonathan Brecher, co-author of "So-Called Dollars: An Illustrated Standard Catalogue"
Patrick McMahon, Director of Exhibitions, Museum of Fine Arts, Boston
Alan Stahl, Curator of Numismatics, Princeton University
Panelists will include several noted numismatists: John W. Adams, Q. David Bowers, Cory Gilliland, Scott Miller, Ira Rezak, Rob Rodriguez, John Sallay, and Stephen Scher.
Space is limited, so register now at https://www.masshist.org/medals [⇗]. More information is available in the MCA-MHS Conference Press Release (pdf).
MCA Meeting at the 2018 NYINC (Posted January 2018)
Our annual MCA winter meeting will take place at noon on Saturday, January 14, 2018, in conjunction with the New York International Numismatic Convention (NYINC). The keynote speaker will be Dr. Lawrence Lee, who will give a presentation on the Crane collection of Indian Peace Medals at the Denver Museum of Nature & Science.
The NYINC venue has changed from past years, and is at the Grand Hyatt Hotel located at 109 East 42nd Street, New York, NY 10022, between Park and Lexington Avenues. Our meeting is in the Julliard room. More information about the show can be found at the NYINC website [⇗].
All are invited and welcome.
Announcing the 2018 MCA Club Medal (Posted December 2017)
The 2018 annual MCA medal features Hermes, son of Zeus and the Pleiade Maia, (known also as Mercury in Roman circles), bringing seven years good fortune from the Gods. The reverse, with the winged foot of Hermes, shows that Medal Collectors of America has reached its 20 year mark!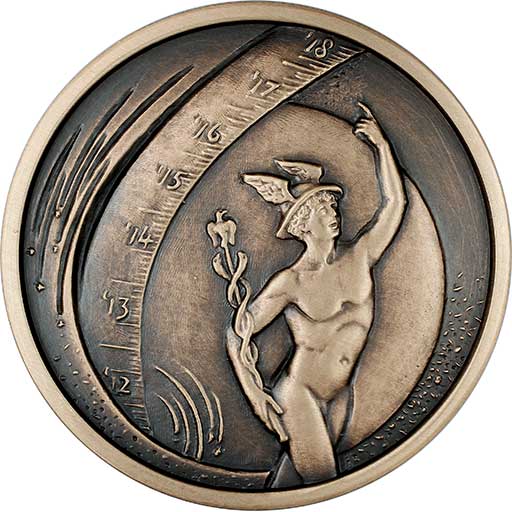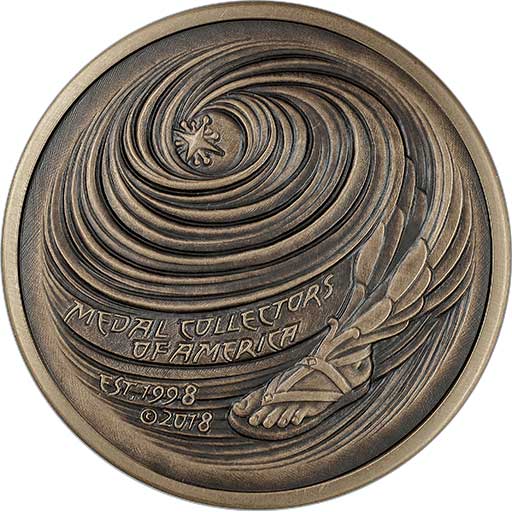 The medal measures 2.5" in diameter. It is approximately 5.25 mm thick and weighs 4.07 oz (115.4 grams). The silver medals contain at least 5 ounces of silver. The price for this year's bronze medal is $50, the silver is $275. Bronze medals are available now and silver medals will be struck immediately after the March 15 deadline. Orders can be sent to Skyler Liechty or Neil Musante.
The 2018 club medal will be the final entry from the great team of artist Alex Shagin and MCA member Gerry Muhl. We are very fortunate to have had their support. Starting in 2019, and each year following, the plan is have the annual medal designed by a different artist.