NASA Mission Medals
Tributes in Silver and Pewter
The Coin & Medal Collector's Asylum, Copyright © 1999-2004.
Struck for NASA by the L. G. Balfour Company of Massachusetts these medals were for distribution to NASA and space industry employees that worked on the missions. They were not originally available to the public but in 1973 the International Numismatic Agency, 96 Prince Street, New York, New York was appointed exclusive distributors to the public for the 13 medals. The medals distributed by the International Numismatic Agency were only available in sets which came in custom designed leatherette chests lined with silk and velvet.
The medals were struck in both sterling silver and pewter. The designs were taken from sketches and photographs approved by the NASA artist and technicians associated with each mission. The medals commemorate the following missions: Freedom 7, Friendship 7, Gemini 4, Gemini 6 & 7, Gemini 8, Apollo 8, Apollo 11, Apollo 12, Apollo 13, Apollo 14, Apollo 15, Apollo 16, and Apollo 17.
These 1 3/16 inch medals are struck in a special three dimensional high relief technique developed by the Balfour Company. These medals have a look like no other high relief medals you've probably ever encountered. The relief is so deep and the angles so crisp that you'll swear the metal in the recesses is tissue thin. The International Numismatic Agency press release in the November 1973 Numismatist stated the Balfour method "stresses the carved contours of the design elements. This unusual perspective involves the viewer as a participant in the drama of each mission." The medals are quite interesting and photography does not do them justice.
The International Numismatic Agency marketed the 13-medal sets in 1973, in the aforementioned leatherette cases, for $150 in sterling silver or $45 in bronze plus $1.50 postage and insurance . Long out of production, they can now only be found on the secondary market. Complete sets in their original cases are encountered much less frequently than individual medals and the number of pewter medals found far out number the sterling silver versions.
Collector's Guide
Freedom 7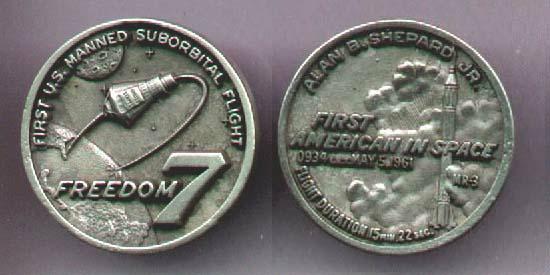 Astronauts: Alan B. Shepard Jr.
Mission Date: May 5, 1961
Freindship 7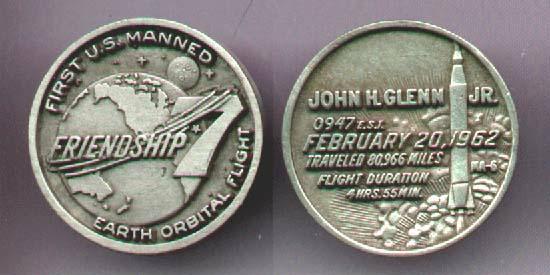 Astronauts: John H. Glenn Jr.
Mission Date: February 20, 1962
Gemini IV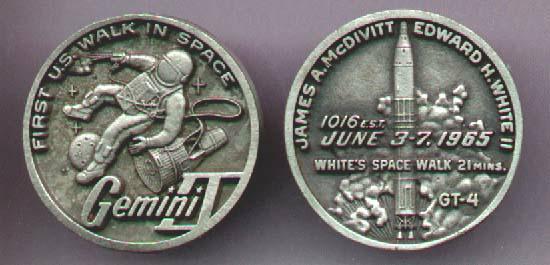 Astronauts: James A. McDivitt, Edward H. White II
Mission Date: June 3-7, 1965
Gemini VI / Gemini VII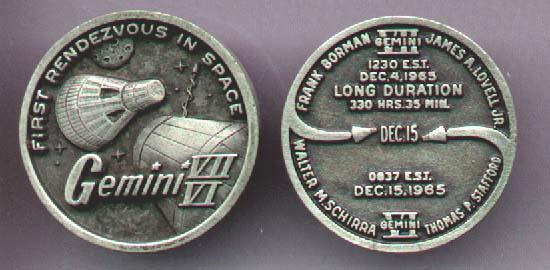 Astronauts: Walter Schirra, Thomas Stafford, Frank Borman, James A. Lovell Jr.
Mission Date: December 4-15, 1965
Gemini VIII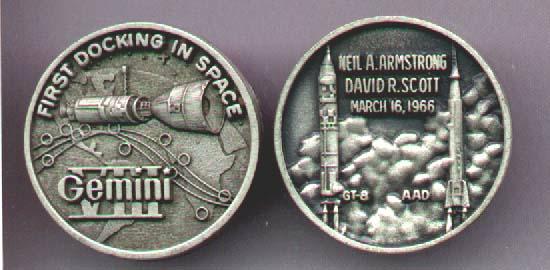 Astronauts: Neil Armstrong, David R. Scott
Mission Date: March 16, 1966
Apollo 8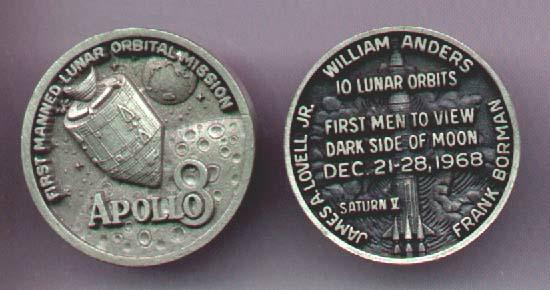 Astronauts: James A. Lovell Jr., William Anders, Frank Borman
Mission Date: December 21-28, 1968
Apollo 11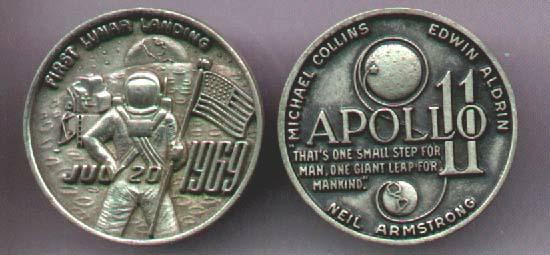 Astronauts: Neil Armstrong, Michael Collins, Edwin Aldrin
Apollo XII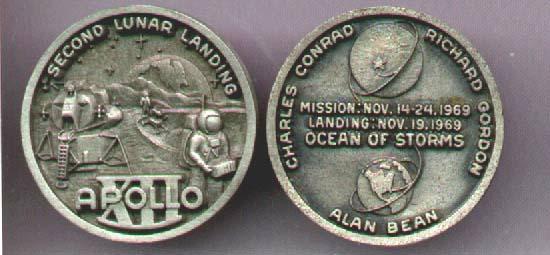 Astronauts: Charles Conrad, Richard Gordon, Alan Bean
Mission Date: November 14-24, 1969
Apollo XIII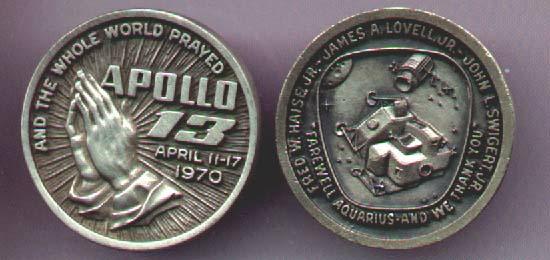 Astronauts: John L. Swigert Jr., James A. Lovell Jr., Fred W. Haise Jr.
Mission Date: April 11-17, 1970
Apollo 14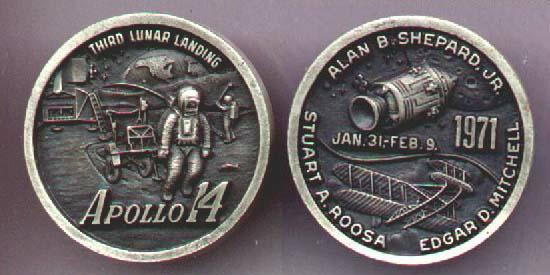 Astronauts: Alan B. Shepard Jr., Stuart A. Roosa, Edgar D.Mitchell
Mission Date: January 31 - February 9, 1971
Apollo 15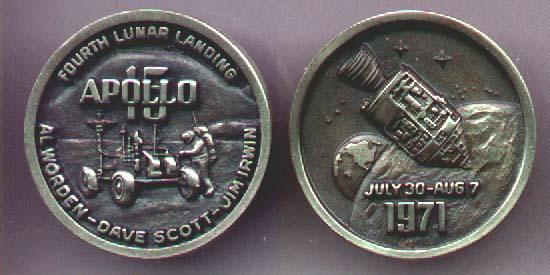 Astronauts: Dave Scott, Al Worden, Jim Irwin
Mission Date: July 30 - August 7, 1971
Apollo 16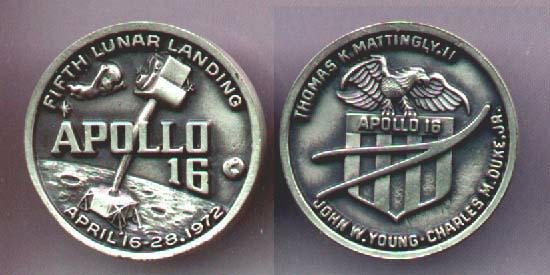 Astronauts: Thomas K. Mattingly II, John W. Young, Charles M. Duke Jr.
Mission Date: April 16-28, 1972
Apollo 17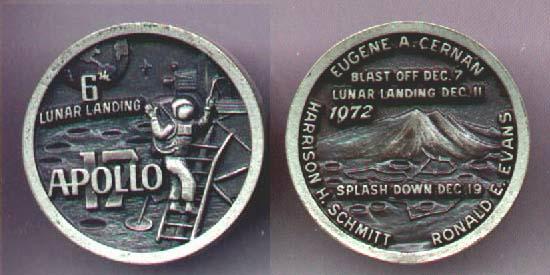 Astronauts: Eugene A. Cernan, Ronald E. Evans, Harrison H. Schmitt
Mission Date: December 7-19, 1972
Printable Version
A printable formatted version of the MCA NASA Mission Medals Collector's Guide (pdf) is available.
This collector's guide and photographs courtesy of The Coin-n-Medal Collector's Asylum where it was presented as an e-exhibit.