News Archive
2009
Notice of Meeting and Presentation (Posted December 2009)
The next meeting of the Medal Collectors of America will be held on Saturday, January 9, 2010, at 12 noon in the Sutton Suite of the Waldorf Astoria Hotel, as part of the New York International Numismatic Convention. The MCA meeting will have as its featured speaker Benjamin Weiss who will present a talk on Medallic History of Religious and Racial Intolerance. All are invited to attend.
Glenn Stein Designs Antarctic Treaty Medal (Posted December 2009)
At the request of the Chairman of the International Board of the Antarctic Treaty Summit, Glenn Stein has designed a medal to commemorate the international treaty's first 50 years and the continued use of Antarctica for only peaceful purposes. Over the years, a total of 47 nations have become signatories of this unique document in human history. The medal was struck in bronze and measures 64 mm in diameter. Only 125 medals were produced, with several presented at the Smithsonian Institution during the Summit (November 30-December 3, 2009). The Obverse is based on the Summit logo, while the Reverse features a central silhouette of Antarctica surrounded be wording from the Treaty's Preamble, and the whole is encircled by representations of Antarctic animal life. Hearty congratulations, Glenn, on this outstanding achievement.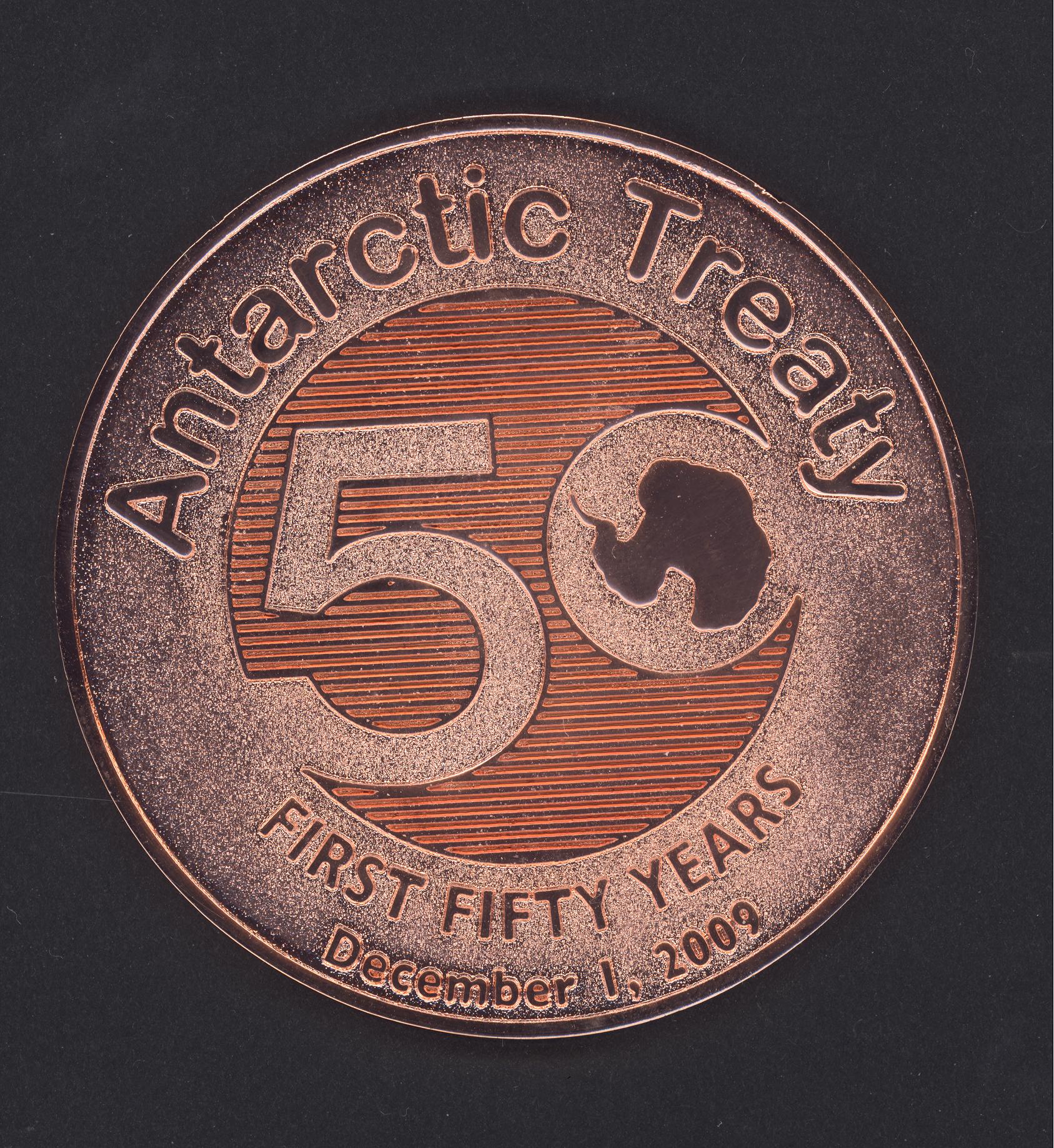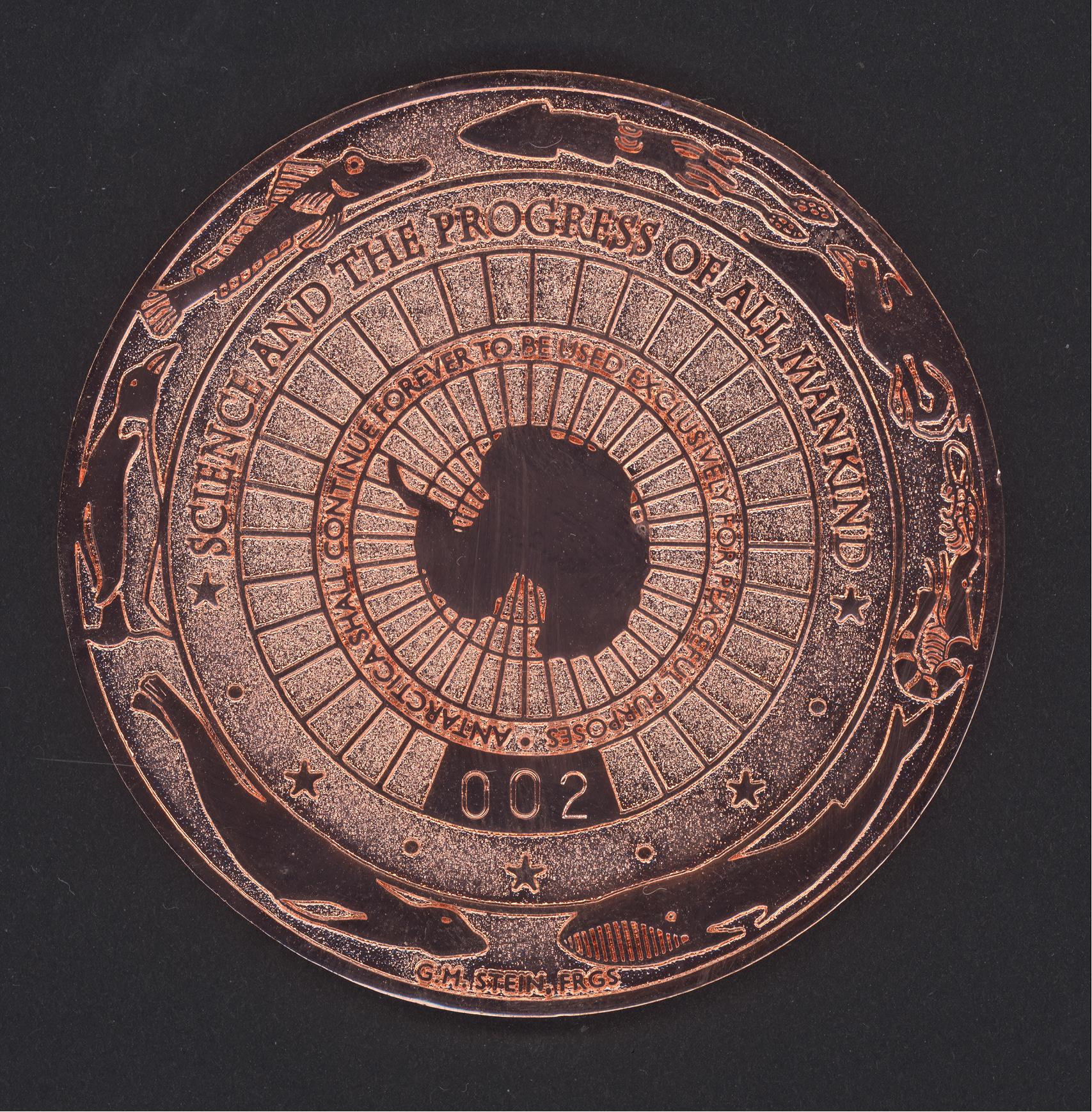 MCA Medal Awarded to John Adams (Posted November 2009)
At the MCA 2009 Annual Meeting in Los Angeles, retiring MCA president John W. Adams was presented with a large silver medal as a token of appreciation for his six years of leadership. Using the beautiful French reproduction of the Libertas Americana medal as a host, the medal has engraved in cursive script "To John W. Adams; For Noble Dedication to Medal Collectors" and below the bust "MCA Past President 2003-2009". The medal was presented in a box upon which was engraved John's initials.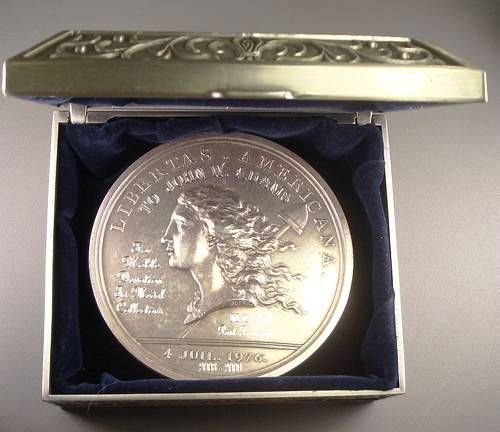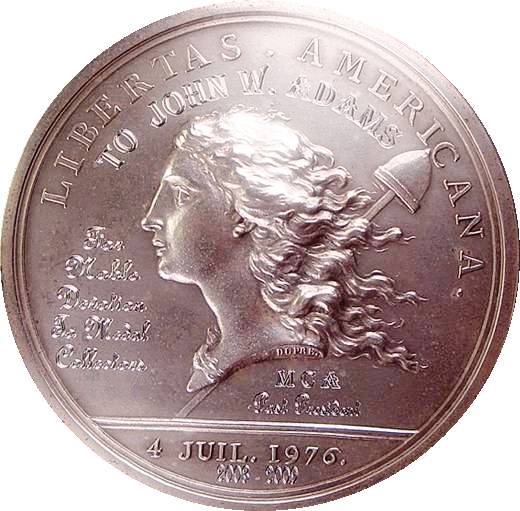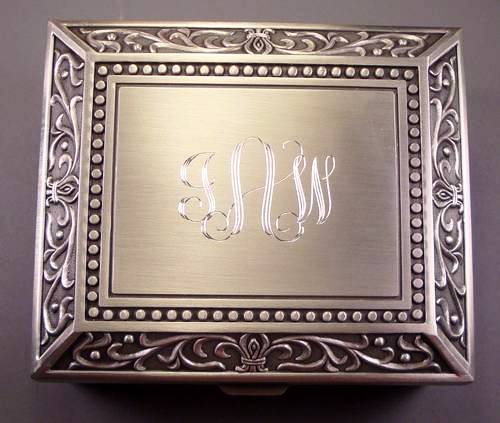 In the August 2009 edition of the MCA Advisory, John thanked the club with the following note: "Your retiring president (aka ye editor) was touched to the quick. My labors on behalf of the Club have been joyful ones; hence, this medal, which is so beautiful by itself and into which so much thoughtfulness has been poured, is compensation beyond desert. Regina and I have placed the medal cum box in a prominent position in our home. We think of you who have given it to us often and with great affection."
Glenn Stein Wins Journal Prize (Posted October 2009)
Glenn M. Stein, FRGS, has been awarded The Journal Prize for 2008-2009, by the Orders and Medals Research Society of Great Britain. The Prize, which was established in 2006, recognizes research of a high standard and contribution to medallic knowledge. His two-part article, titled The Voyage of HMS Investigator (1850-54): Solving the Mysteries of the Arctic Meritorious Service and Gallantry Medals, was published in the September and December 2009 issues of the Journal of the Orders and Medals Research Society.
The Prize, which consists of a framed certificate and a cash prize, was announced at the Society's Convention in London, on September 19, 2009.
Our hearty congratulations.
ANA Award for the MCA Advisory (Posted August 2009)
The MCA Advisory, published by the Medal Collectors of America, and edited by John Adams, has been selected by a panel of judges to receive the third-place ANA Outstanding Specialty Club Publication Award.
The Outstanding Club Publications Awards will be presented at the ANA's 118th Anniversary Convention, on Saturday, August 8 in Room 515A, West Hall A, of the Los Angeles Convention Center.
Hearty congratulations to John for editing The Advisory and to all who contributed to this outstanding publication.
In Memoriam: Thomas Lautz (Posted July 2009)
We note with sadness the death of the eminent numismatist Thomas Lautz, Director of the large numismatic collection of the Geldgeschichtliches Museum dur Kreissparkasse Köln, in Cologne, Germany. Lautz was born in 1951 in Germany where he studied history and geography. He was a world renowned numismatist who had a broad range of interests and a wide scope of knowledge in numismatics, collecting and publishing many articles about different areas of numismatic themes, including ancient and modern coins and medals. He was especially noted for his study of Pre-Coinage Currencies or Traditional Money of the Pacific regions. For the past several years he made excursions to some remote Islands of Papua New Guinea and the Solomon Islands as well as to Micronesia (Yap) to study the use of "Traditional Money" in today's life.
As a leading member of EUCOPRIMO, (European Union to Search for, Collect and Preserve Primitive and Curious Money), he was world famous. As a private collector Lautz specialized in Scandinavian coins and medals. At present his collection related to the North Pole may be seen in an exposition at the Kreisspakasse Köln, for which he served as curator for so many years.
Thomas Lautz died from an accident while on a trip to China. He will be sorely missed by friends and fellow numismatists alike.
MCA 2009 Annual Awards (Posted June 2009)
The Medal Collectors of America issued its 2009 Annual Awards: The Carl Carlson Award to Stephen K. Scher and the Georgia Stamm Chamberlain Award to Anne E. Bentley. Our hearty congratulations to both!
Collection of Medals at Philadelphia Museum of Art (Posted June 2009)
A group of Historical and Commemorative Medals from the Ben Weiss Collection has been put on display at the Philadelphia Museum of Art.
ANA Money Show (Posted March 2009)
Henry Scott Goodman wins Best of Show at 2009 ANA Money Show for his exhibition Ludwig Gies: Cast Art Medals from the Great War.
Members Corner Update (Posted February 2009)
There have been several new additions to our Members Corner: images and descriptions of a variety of interesting medals from our members, the latest being Field Day Medals from the collection of Paul Lajoie.