News Archive
2012
Medal Blog (Posted November 2012)
Dick Johnson has posted an extremely interesting Medal Blog [⇗] online. Visit it for a wealth of information.
Display of French Medallic Art in the 19th and 20th Century (Posted November 2012)
For those of you who might be in France in the near future, you might be interested in this exhibit sent by Nicholas Maier. Please click on this link (pdf) for more details.
Ira Rezak Collection on Display (Posted October 2012)
As many of you may know, Ira has a marvelous collection of medals related to medicine. This wonderful collection will be on display at the Columbia University Medical Center from now until early January 2013. For more information see the press release (pdf) of Ira's wonderful collection.
Glenn Stein Presents New Medal on The South Pole (Posted September 2012)
Glenn M. Stein, FRGS, was the author of the historical background of a new medal, The South Polar Race Medal. He was also the assistant designer of this medal, created by Danuta Solowiej. Only 100 of these medals have been produced.
Glenn has kindly provided the images of the obverse (pdf) and reverse (pdf) of this interesting medal as well as details of the medal in a brochure (pdf), which he authored and which can also be viewed here. Congratulations to Glenn on this remarkable achievement.
MCA Meeting of August 2012 (Posted August 2012)
Our next MCA meeting will be held on Thursday, August 9, 2012, from 3-5 pm, in room 104A of the Pennsylvania Convention Center, as part of the American Numismatic Convention (World's Fair of Money) to be held in Philadelphia, PA, from August 7-11.
The major portion of our meeting will be devoted to a Panel Discussion among some of our members, including Bob Fritsch on Antoine Bovy's Award Medals, Donald Scarinci on Contemporary Art Medals, and Ben Weiss on Medals Commemorating Important Historical Events. Ben will also be giving a Numismatic Theatre presentation (Money Talks) entitled Medallic History of Religious Intolerance on Friday, August 10th at 11 am in room 104B. All are invited to attend.
David Rittenhouse, the first director of the United States Mint will be honored on the official medal for the American Numismatic Association.
Laurence Brown, In Memoriam (Posted June 2012)
Laurence Brown sadly died on June 18, 2012. Brown was the eminent author of the monumental three volume work, A Catalogue of British Historical Medals 1760-1660, the sequel to Medallic Illustrations of the History of Great Britain and Ireland to the Death of George II by Hawkins, Franks, and Grueber. Brown was a giant in the field and will be sorely missed.
More on his life can be found on Wayne Homren's website E-Sylum [⇗].
MCA Annual Awards (Posted March 2012)
The Medal Collectors of America issued its 2011 Annual Awards during its MCA meeting on August, 18, 2011, held in conjunction with the ANA convention in Chicago. The Carl Carlson Award went to Scott Miller and the Georgia Stamm Chamberlain Award to Wayne Homren.
Scott Miller, one of the founding members of the MCA, is a well-known leader in the field and a dedicated and meticulous researcher. Scott was the author of the article on Jubilee Medals of King George V in our only issue of The Medal Cabinet, and a past President of the New York Numismatic Club. Scott researched and catalogued the medals of Emil Fuchs and is the author of the definitive book on Medals of the American Numismatic Society (ANS) that is soon to be published in their new medal monograph series.
Wayne Homren is the editor of the weekly e-Sylum electronic newsletter of the Numismatic Bibliomania Society [⇗]. In this free, on line publication, he has encouraged the dissemination of news and research on medals by providing a frequent and regular forum for the exchange of information on medallic history, art and technology.
Our hearty congratulations to these well-deserved winners of the 2011 MCA Annual Awards.
John Sallay's Presentation of Athena Leading the Way: Her Iconography on Medals (Posted January 2012)
For those who couldn't make John's wonderful talk at the NYINC this January, we have posted his Power Point presentation in its entirety. The figures and text can be viewed here as a pdf file.
New Medal Issued by the Medal Collectors of America (Posted January 2012)
Thanks to John Adams who organized the efforts to make a MCA Club Medal we now have available for our organization an original, limited edition medal described below:
Designed by Alexander Shagin, the medal is 64 mm in diameter and weighs 110 gm. It features a bold multi-level relief. The obverse features a muscular artisan, naked to the waist, striking medals by hand. The reverse depicts Apollo driving his chariot through the sky, with the Muse holding a wreath in her left hand and a trumpet in her right, which she is blowing to announce the restoration of the art of medal making. The theme is most appropriate for the first-ever medal to be sponsored by Medal Collectors of America.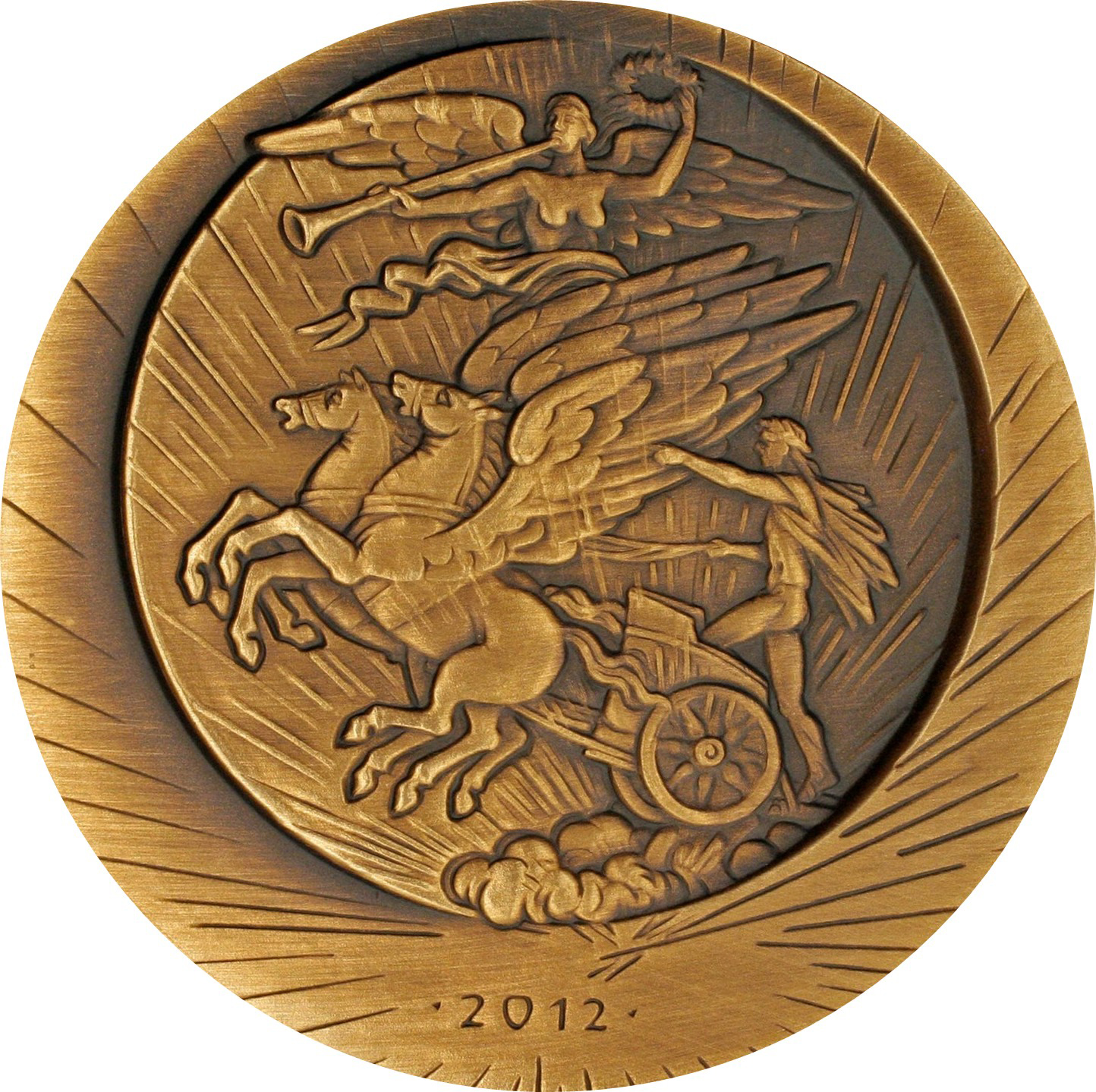 Thirty pieces will be cast in silver with a price of $200; sixty pieces will be cast in bronze at a price of $25. The silver examples are almost all sold, but there are bronze medals that can be purchased by applying to John W. Adams, 162 Farm Street, Dover, MA, 02030 (jadams@ahh.com).